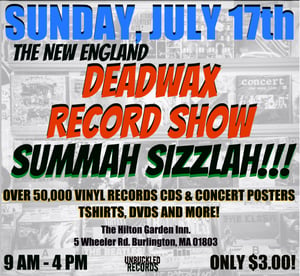 $

45.00
Buy purchasing this pass, you are agreeing to purchase 1 table (6 foot) for the New England DeadWax Vinyl Record Fair on July 17th at the Hilton Garden Inn (Burlington, MA 01803).
Dealers are expected to arrive before 7:15.
The show opens at 8:00 AM
If you would like to purchase more tables, simply add additional tables by adjusting the quantity.
Feel free to contact Dave at 413 519 7440 or by email at UNBUCKLEDRECORDS@yahoo.com